4MBS is operated by the Music Broadcasting Society of Qld Ltd (MBSQ), a not-for-profit community broadcasting organisation established in Brisbane in 1979. MBSQ is a company limited by guarantee. The Board of Directors and Staff are shown below. MBSQ operates 4MBS Classic FM (since March 1979), Silver Memories (since 2007) and the digital service, MBS Light (since 2012).
4MBS PATRON:
4MBS Classic FM is delighted to announce our Patron:
Her Excellency the Honourable Dr Jeannette Young PSM
Governor of Queensland
BOARD OF DIRECTORS:
MATTHEW FARRELL
4MBS Board Chair
Matthew Farrell has held executive roles in major performing arts and is a professional musician. He is currently CEO of SunPAC (Sunnybank Performing Arts Centre) and holds a CEO role part time with the national Lev Vlassenko Piano Competition. He was Director, Orchestra Management at the Queensland Symphony Orchestra for 12 years with responsibility for production, musicians and commercial projects. Previously Matthew was cellist with the Victorian String Quartet before becoming Principal Cello with the Queensland Philharmonic which merged with the Queensland Symphony Orchestra after 2001. He has performed in Australia, Asia and Europe and is a founding member of contemporary ensemble, LOCANA. Matthew taught cello at Queensland Conservatorium Griffith University for many years and has a long history of involvement with music and arts development including participation on several State and Federal inquiries and taskforces. Matthew has been Chair of MBSQ since 2013 having been an active member of the Board since 2006 and co-directed the 4MBS Festival of Classics in 2007- 2008.
LUKE COSTA
4MBS Board Treasurer
Luke is an accountant, problem solver and strategy consultant with degrees in commerce, accounting, financial planning and philosophy. With over two decades of business experience, Luke provides strategic advice to diverse clients including Boards and NGOs, clinicians and other professionals, SMEs, schools, professional sporting clubs, elite athletes and government. His specialist knowledge and experience make him a sought after speaker and strategist.
As the Principal of Abundance Accounting, Luke provides diverse finance and advisory services specialising in multidisciplinary practice solutions, complex financial strategies and effective accounting and loan solutions. His interests in ethics and philosophy provide Luke's insightful perspective on the increasingly complex economy of modern business and finance, translating to practical, holistic advice for a competitive advantage.
CLIVE PORRITT
4MBS Board Secretary
Clive arrived in Melbourne from the UK with his family in 1959. His first exposure to classical music was through his parents' small collection of 78rpm records, an interest he followed at university by attending concerts there, and briefly trying to learn classical guitar. He trained as a lawyer and worked in private practice and then as a public servant for the Victorian, Queensland and Commonwealth governments, principally as a prosecutor. Clive moved to Brisbane in 1986 and after a few years of being a 4MBS subscriber, he became a Life Subscriber. He volunteers as a program presenter with 4MBS, joined the Board in 2018, became Board Secretary in 2019, and chairs the Broadcast Committee.
TED CHAPMAN ​
Ted is an independent finance broker who works passionately with his small business clientele to improve business and personal results and vision. Before starting his own enterprise, Ted was recognised for his ability to foster positive cultures in his workplaces A presenter of 4MBS Morning Music for 10 years, he is an occasional pianist and erstwhile performer.
RALPH DEVLIN AM KC
Ralph recently retired from practice as a Senior Counsel in Brisbane after a career spanning 45 years, 15 of those as a 'Silk' in mainly criminal law and environmental law. Ralph served as foundation Chairman of the Sunshine Coast Major Events Board 2013-2020 and was instrumental in the formation of the Sunshine Coast Chamber Music Festival in June 2020. Ralph has been a singer all his life and has a lifetime interest in the performing arts. He was made a Member of the Order of Australia (AM) in 2016, for Services to Surf Life Saving and the Law
LESLIE MARTIN
For over 20 years Leslie has been involved with 4MBS in various ways including: performing in Dido and Aeneas, producing shows such as Tosca: The Story of the Opera and Shakespeare: Spoken and Sung, as a programmer and announcer of Thursday Night Opera, programme guide deliverer and helper at Radiothons.
She has used her skills on the Queensland Arts Advisory Committee 2013 to then Senator George Brandis and as Company Director (2015-2017) of Australian National Association of Teachers of Singing (ANATS). She is currently a board member of Springboard Opera.
Passionate about the support that 4MBS gives to lovers of classical music and our local performers, Leslie brings to the board her skills in producing, performance, marketing, and strategic thinking.
ALLISON KRUGER
Allison has a keen appreciation of the arts, in particular music, theatre and dance. Allison is a Queensland based Corporate Finance professional experienced in managing and optimising finance structures and businesses in particular with regards to capital and debt financing. Allison's finance career has spanned Brisbane, Sydney and London. Allison has a law degree from the Queensland University of Technology and a Masters of Commerce from the University of New South Wales. Allison enjoys travelling.
LOUISE STRASSER
Louise volunteers at 4MBS in a number of roles including 4MBS Shop Co-ordinator, Subscriber Support, Program Guide Copy Editor, Programmer and Presenter on MBS Light and 4MBS, Program Slotter, member of the Broadcasts Committee, Program Deliverer and has been a member of the 4MBS Board since November 2020. This affords her a broad understanding of the workings of the station.
She has been a choral singer for many years, singing with the Brisbane Chorale where she was Concert Manager 1997–1999, Brisbane Concert Choir, Bach Society of Qld, Chorus Oz and the Royal Melbourne Philharmonic Choir.
In a previous life she was a Primary School Teacher for Education Qld for over 40 years, teaching all year levels and classroom music, but specialised in Early Education. She also taught in Abingdon, England via a Teacher Exchange Program.
DR KERRY VANN-LEEFLANG
Kerry Vann-Leeflang is a versatile musician who maintains a busy schedule of performing, teaching, examining and adjudicating. She is the principal percussionist with the Brisbane Philharmonic Orchestra and Corda Spiritus and also plays with the Brisbane Excelsior Band.
She sang with Opera Queensland for 10 seasons and has sung several principal roles in Gilbert and Sullivan operettas. She teaches piano, percussion and singing and is a music examiner with ANZCA and examines throughout Australia and Asia. She holds ten degrees and diplomas: eight in music, one in languages (French, German and Japanese) and one in education. These include a Ph. D. in music from The University of Queensland and she is a Fellow of the Trinity College London in voice. While at university, she was awarded a Mitsui Educational Foundation scholarship as part of her study of Japanese and a DAAD scholarship to study in Wagner's manuscripts in Germany for her Ph. D. on Lohengrin.
---
4MBS CLASSIC FM STAFF
GARY THORPE OAM
General Manager 4MBS Classic FM, Silver Memories, Classic Arts and MBS Light
Gary Thorpe is the General Manager of Silver Memories Nostalgia Radio which he founded in 2007. He is also General Manager of two other radio stations – 4MBS Classic FM and MBS Light digital radio. He was Executive Producer of the first performance outside Britain of Havergal Brian's Gothic Symphony, is Artistic Director of the Annual 4MBS Festival of Classics which is the largest classical music festival in the country, Producer of the 4MBS Brisbane Shakespeare Festival and Vice-President of the Havergal Brian Society. He was awarded an OAM in 2009 for his services to music and community broadcasting and in 2011 a Churchill Fellowship to study the use of music in management of dementia. Other commitments include being Deputy Chair of The Queensland Choir, Secretary of the Board of Broadcasting Park Pty. Ltd. and Treasurer of the Queensland Community Broadcasting Association. He has also been a Board Member of Jupiter's Casino Community Benefit Fund, a Member of the Arts Faculty Board of Studies, University of Queensland, Chair of the Broadcasting Committee of the Music Council of Australia (MCA), Secretary/Vice President of the Australian Society for Education Through the Arts and Chairman, Music Broadcasting Society of Queensland Ltd.
MAGGIE FINDLAY
​Administration Manager | Festival Producer
​Maggie has been with 4MBS since 1999, and began her involvement as Director of our annual Festival of Classics, making it a highly successful major festival in the Brisbane festival season. Since that time, Maggie has overseen a broad range of events and festivals, managing the engagement of prominent artists and venues across Brisbane. Maggie's background in music is deeply ingrained, and whilst ever-modest, we have on good authority that Maggie has previously sung with prestigious international organisations including the D'Oyly Carte Opera Company and English National Opera. Maggie was married to the late international opera conductor John Matheson.
PETER MCCAHON
4MBS Broadcasts and Sponsorships Manager
​Peter has been with 4MBS Classic FM since 2001. Prior to joining the station he was in senior positions with several of Brisbane's leading commercial radio stations. His wealth of experience in radio advertising enables him to match clients to suitable programs and promotion packages.
NICK GUROVIC
Editor, Program Guide
​Born in ex-Yugoslavia, Nick worked for 19 years for TV Sarajevo: public broadcaster, during which time he covered politics, culture and arts, and foreign affairs. His work was referred by The Economist weekly in 1992. Following eight years in Prague, Czech Republic, Nick spent a semester in Washington DC working for the US Congress, sponsored by Radio Free Europe, and broadcasting in 28 languages. Since joining 4MBS Classic FM in winter 2007, Nick has written more than 300 feature articles about renowned Australian music makers and young emerging artists.

JOHN CARRIER
4MBS Ticketing, Music Diary & Performance Studio Manager, MBS Light Broadcasts Manager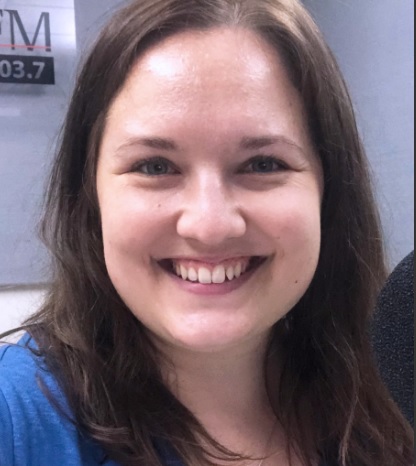 WENDY LANG
Marketing Officer and Events Producer
​Wendy is a lover of words, woodwinds and the human voice. After graduating with a Bachelor of Digital Media Production, Wendy began volunteering at 4MBS in 2004, and became the Program Guide Editor from 2006. She later moved into the festivals area of 4MBS, and has worked on at least 10 4MBS Festival of Classics and 4MBS Brisbane Shakespeare Festivals. Since February 2022, Wendy has been presenting contemporary classical music on 'Music Of Our Time', which airs the first Monday of each month (formerly hosted by Elaine Seeto). Outside of 4MBS, Wendy's final year university project was produced into the 52 minute documentary, 'Mysteries of the Human Voice', broadcast internationally. She is a performing singer/songwriter, clarinettist and tin whistle player with interests in folk and pop music. She can also tap dance.
JEANNETTE ZUNIGA
Accounts Administrator (part-time)